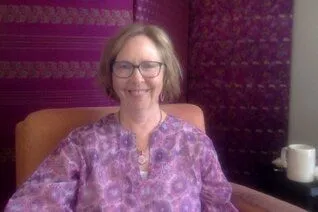 Amy has 35 years of experience as a therapist and expertise in EMDR. EMDR is a therapy for unwinding the brain and nervous system from traumatic experiences or painful memories, so that more relaxation and life force energy become available.
Amy enjoys working with people who are actively navigating life transitions and with those searching for meaning, identity, authenticity and purpose. Unexpected life events can create discomfort and unease in the short term, and they also open doors that were previously closed or blocked, leading to a re-evaluation of spiritual beliefs, relationships, and quality of life issues. Amy likes to help people consider all of their experiences, both positive and negative, as having value and shedding more light on what can be learned to grow, expand and evolve.
Along with non-judgemental listening, Amy provides practical feed back, when requested. She assists clients to learn how to place their focus on what they want to create and nurture, along with identifying and working with obstacles such as fears or beliefs so that forward momentum can be sustained. She integrates complementary techniques, such as Energy Psychology, Energy Medicine, and various types of yoga and breath practices to offer a unique way of working to build strength and resiliency. The focus of treatment is to bring the three bodies; mental, emotional and physical into alignment and balance to restore ease and well being and to discover the qualities that really matter. Bringing those personal qualities into aspects of life, such as family, work, friendships, and home, enables new learning and experiences to feel more accessible, ultimately making life feel more full and joyful.
Another important part of the work is making time for self care and creating sanctuary space. We live in a fast-paced society that has every kind of communication and technology. It is vital to develop healthy boundaries within our lives so that it is possible to feel secure and comfortable. Amy enjoys teaching about sanctuary, creating sacred space, and shows how a little goes a long way to finding contentment and peacefulness.
The final phase of therapy focuses on aligning personal truth and authenticity with personal goals and dreams, and integrating learning, with new strengths and abilities. Old worn out patterns and beliefs are easily shed making room for new opportunities and experiences. At this phase a person may make a change such as getting a new job, going back to school, leaving a situation that was not working, making new friends, building support systems, or just getting used to feeling better.
She can accept BC/BS or Tufts.
Amy isn't accepting new clients but you can take a class with her if you navigate to the yoga page.
Education
Lesley College Graduate School
Post Graduate Training
Bioenergetics and Gestalt
Energy Medicine
EMDR
200 Hour Yoga Teacher Training
License and Certifications
Licensed Mental Health Counselor
former Eden Energy Medicine Practitioner
Certified EMDR therapist
Other Training
Reiki Master Teacher
When filling out the online request form below,
please include health insurance name!
We are committed to your privacy. Do not include confidential or private information regarding your health condition in this form or any other form found on this website. This form is for general questions or messages to the practitioner.